Yesterday evening I sent Christmas packing. We spent a delightful month together, which concluded with a fabulous Christmas celebration on Saturday. But when I woke up Sunday morning and realized Christmas had no intent on leaving, I knew I had to take matters into my own hands. That's when I started packing Christmas' belongings and sent him on his merry way. Even though Christmas is festive and bright and magical and wonderful, he also leaves his stuff all over my house, which doesn't lend itself very well to the whole 'neat and tidy' thing I like to have going on. So, we said our goodbyes, and off Christmas went, leaving me with a home that's almost back to normal.
I wasn't always like this, all neat and tidy. Ten years ago, when my husband and I first met, he claims he couldn't even tell what kind of flooring I had at the time.
Over the years, I slowly evolved into wanting my home to be more organized, and it's literally taken me years to get it right. Or at least better. Now that I run a business from home, I find that it's even more important to keep my house clean and organized. If it's not, it becomes a distraction to me while I'm trying to work and I become far less productive.
If you haven't jumped on the organization bandwagon just yet, I wanted to share three simple tips that have helped me become more organized over the years.
#1: Seek (professional) help.
What I mean by this is look for books, magazines, websites and stores that offer organizational tips and tricks that you can peruse to find inspiration that suits you. Compile your favorites (neatly, of course!) so that you can refer back to them when you need motivation to continue this ongoing project. Here are two of my faves: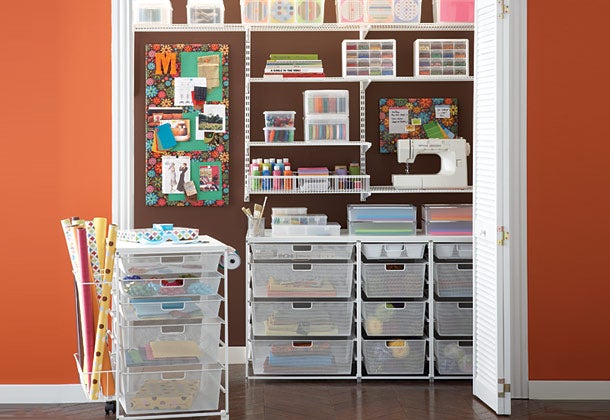 I heart the arts and crafts closet from www.containerstore.com
I also love Get Organized Now!, a site created by professional organizer, Maria Gracia. I've been following this site forever. Do yourself a favor and sign up for the weekly newsletter for organizing inspiration delivered right to your inbox. In addition to tips and tricks offered by Maria and her readers, one of my favorite features of the site is the monthly organizing checklist (click here to see what December's checklist looked like). It is my dream to one day complete an entire list within the month it's featured. I don't know how she does it. She's seriously the Martha of home organization. Adore.
#2: Start somewhere. Anywhere.
Now that you've found inspiration, it's time to go for it. I know the idea of organizing your entire home can be extremely overwhelming, but the thought of organizing just one junk drawer or just one closet shelf? Not as scary. My advice to you is to just start anywhere, and take on one little project at a time. Here's an example: my refrigerator is a mess. I haven't had taken the time to clean it out for a while (no need to actually disclose how long it's been), and now it's a huge project. So, rather than stressing over how much work it's going to be to clean out the whole thing, I'm going to tackle one shelf or drawer at a time. Today, I'm going to clean the top shelf. See? That doesn't seem so bad!
This may be my most simple tip, but it has the biggest reward. When organizing your space, be sure to put similar things together, and put them closest to where they'll be used. In my mom's rather large kitchen, she has her plates and silverware in the cupboards and drawers closest to the dining room, for quick access when setting the table. I have mine closest to the dishwasher because I'm lazy like that. The point is, put the stuff where you'll use it most, where it makes sense to you. This will save you so much time in the end, from having to run from one end of the house to the other, trying to find what you need.
Wonderful organizing goodies from www.ikea.com
Now, you're probably wondering what this all has to do with Make It Monday… the truth is, I just. can't. make. anything else. this year. So I'm inviting you to join me in making it organized instead. No hot glue burns required.